Bronx High School of Science students square off in Harris Field, a Parks Department property across from the school. F
ellow classmates filmed and cheered on the violence.
A s
ecret Facebook group hidden from the public
called "Savage Season" was used to promote the fights and posted footage of the vile competitions. The fights went on for several years without interference from school officials. One parent who pulled her child out of the school said she told several officials at the school but she was told they were powerless to take action because it was off of school property.
Wataru Takada was charged with misdemeanor aggravated harassment after he surrendered to police with an attorney on Wednesday evening.
He was given a desk appearance ticket and is expected to be back in court on Dec. 9. This was the teen's first arrest, officials said.
The
reporter,
Ben Chapman
received more than a hundred messages including Facebook threats, texts and more than two dozen crank phone calls after a series in the Daily News detailed the vile existance of the organized brawls in Harris Field a public park across the street from one the city's most
prestigious schools.
The reporter's home address along with a photo of his residence were also posted on the "Savage Season" group's uncovered secret Facebook page.
Chapman has been covering the education beat for the paper for years.
The NYPD launched an investigation into the fight club.
A private Facebook group called, "Savage Season" was created to promote the fights and post videos of the fisticuffs.
Videos of 11 separate fights were
posted.
The brawls were reported to two deans and a guidance councilor at Bronx High School of Science which school officials apparently do not dispute.
The Education Department, told the News in a statement, "The non-school-related incidents took place last year and were reported to the NYPD."
A mother of a former student told the paper that said she informed school officials about the fights four months earlier but the administrators insisted they were powerless because the fights were in the park.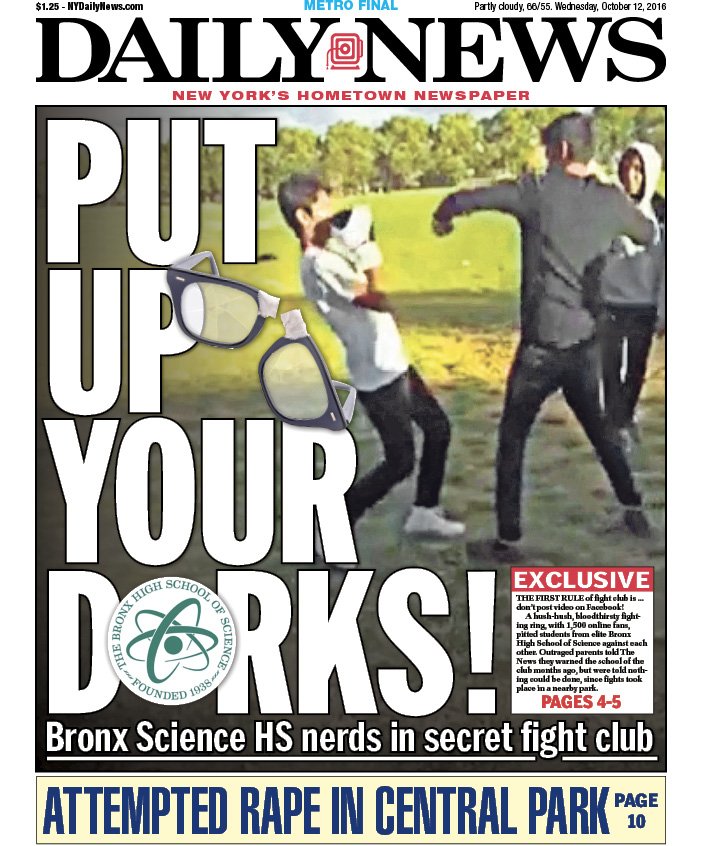 The October 12, 2016 Daily News front-page story detailed the vile "Fight Club" in which students from the prestigious Bronx High School of Science participated in fighting in Harris Field near the school. The unfortunate "Put Up Your Dorks!" headline detracted from otherwise solid story and reporting. The editor who wrote the headline left the paper two days after it was published.
Read/View More
New York Daily News - October 20, 2016 - By Lisa L. Colangelo, Thomas Tracy
Carmen's combat duty: Thorough overhaul of Bronx Science leadership in fight club's wake
New York Daily News - October 14, 2016 - Editorial
Bronx High School of Science principal apologizes to Daily News reporter over 'fight club' threats
New York Daily News - October 13, 2016 - Ben Chapman, Larry McShane
New York Daily News - October 12, 2016 - Ben Chapman, Larry McShane
New York Daily News - October 12, 2016 - By Ben Chapman
New York Daily News - October 11, 2016 - By
Ben Chapman,
Edgar Sandoval,
Larry McShane