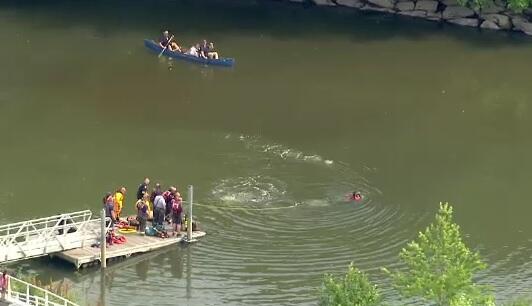 Divers search for missing teens on Friday in the Bronx River near Starlight Park.
Erickson Villa, 13, and his cousin Wellington Gavin, 13, jumped in the Bronx River at Starlight Park around 3:10 p.m. Wellington was pulled from the water after a 15-minute search, while Erickson Villa was found about an hour later.
The section of the river and the park where the teenagers chose to swim is posted with warning signs against swimming and boating.
Wellington Gavin, 13, who had been on a respirator since the Friday afternoon plunge, died Sunday afternoon, said the boy's pastor, Rev. Joel Bauza. "At 3:20 [p.m.] Wellington Gavin passed away on his own. There was no need to stop the machines. His heart stopped on its own," said Bauza, who was flanked by Wellington's distraught mother and his two sisters.
Wellington's cousin, Erickson Villa, 13, jumped off the pier near E. 172nd St. about 3:10 p.m. Friday to cool off after dismissal from Herman Ridder Intermediate School. Erickson knew how to swim but was having trouble, so Wellington jumped in to save him, Bauza told the News.
They were quickly sucked away by the currents as horrified pals looked on. Wellington was pulled from the water by emergency responders after about 15 minutes and was rushed to St. Barnabas Hospital in critical condition. He was later transferred to the Children's Hospital at Montefiore hours later and remained in critical condition until he died, officials said.
Erickson wasn't found by divers for an hour. He was rushed to St. Barnabas Hospital but could not be saved. Grief-stricken family members were huddled at Wellington's bedside for hours on Sunday and decided to take him off life support when he was unresponsive, Bauza said. But they never had to make the heartbreaking choice since Wellington's heart stopped by itself, the pastor said.
Cash-strapped family members are now making arrangements for a final viewing of the teens before both bodies are sent to the Dominican Republic for burial, Bauza said. "They're hurt," the pastor said of both families. "The pain of losing their child is something that's unheard of. Something hard."
Read More: