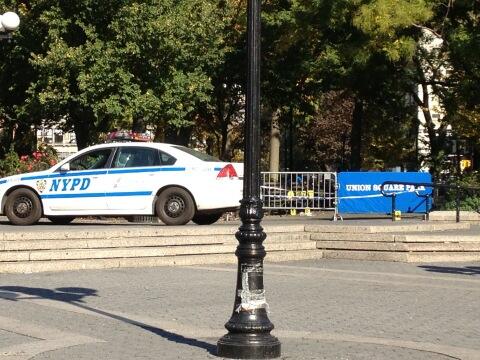 A 28-year-old Hispanic man was found by police just before 12:30 am early Saturday morning
in Union Square Park
with head and face injuries. The body was found on a park bench
btw. 14/15th Street &
Union Square East.
The man was taken to
Bellevue Hospital and has been declared brain dead police told A Walk In The Park.
(Photo: Joey Boots/
via gothamist)
Manhattan
Police say a man who was found bloodied and bruised in Union Square Park last night is brain dead. A 28-year-old Hispanic man, who hasn't been identified yet, was found just after midnight in the vicinity of Union Square East and East 14th Street. Cops tell us that while officers were doing foot patrols of the park, they found the unresponsive man on a park bench, with injuries to his head and face, according to gothamist.
He was taken to Bellevue Hospital in serious condition; his family has been contacted now that he is brain dead, and cops sectioned off the park this afternoon. One person wrote on Facebook, "Never seen the square actually empty."
Cops stressed that the medical examiner has yet to determine the cause of death, but there are two scenarios currently being looked at: the man's injuries may have been caused by an assault, or by a fall. The man's family indicated to police that he has underlying medical issues which could have caused a fall to happen, but nothing has been determined yet.
Joey Boots, who was at the park this afternoon, noted that there was a trail of blood leading up the handicap ramp on the east side of the park.
Read More:
Man Brain Dead After Being Found Bloodied In Union Square
gothamist - November 2, 2013
Man Declared Brain Dead After Being Discovered Injured In Union Square
WCBS - November 2, 2013
A Walk In The Park - September 9, 2013