"And now he's working against community interests including parks in the South Bronx."
- South Bronx resident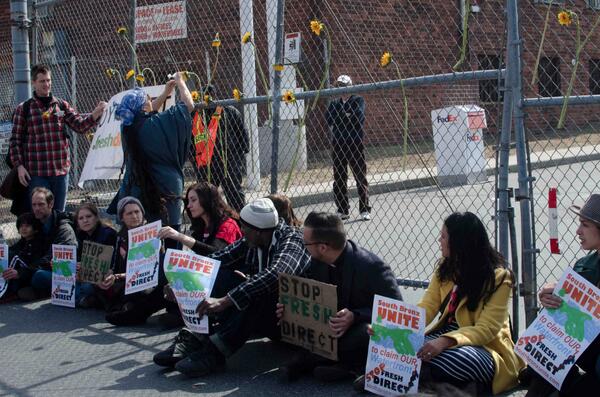 Access Denied.
For decades the Mott Haven waterfront in the South Bronx has been inaccessible due to commercial industry.

In March a woman placed a sun flower on the locked gate leading to the Harlem River Railyard along the water front while protestors sat in front of the gate.

Nine South Bronx residents were arrested in the peaceful civil disobedience action when a blocked gate prevented them from entering the public brownfield land, the proposed location of controversial FreshDirect relocation.

The charges against those arrested were later dropped.
(Photo: By Leah Kozak
via Twitter
)
The DOT NY
State-owned land
has been leased to the
Galesi group for 99 years.
Bronx
Blackmon, a former Michael Bloomberg operative on two consecutive re-election campaigns landed a high-paying job in the Parks Department with zero park experience after Bloomberg was elected to a third term.
For the past several years South Bronx Unite, a coalition of over fifty groups has been fighting the online grocer's planned subsidized re-location and truck facility move along the South Bronx waterfront.

Long cut off from the waterfront the community is fighting for the land instead to be developed into open space and parks with green job and educational opportunities.
"And now he's working against community interests including parks in the South Bronx," said South Bronx resident Jennifer Rivera.
FreshDirect, if allowed to proceed, would bring 1,500 additional daily truck trips through the South Bronx. Critics argue that the plan is a Bloomberg-era relic attempting to give the diesel-intensive on-line grocer nearly $130 million in public subsidies to move to this public waterfront land from Queens.