An estimated ten thousand people attended Sunday's rally Battery Park to protest Donald Trump's
executive order
.
(Photos: Geoffrey Croft/NYC Park Advocates) Click on images to inlarge.
Manhattan
An estimated ten thousand people gathered in historic Battery Park to protest the President's executive order that temporarily prohibits migrants from seven mostly Muslim countries from entering the United States.
The demonstration featured people from all backgrounds, nationalities and ages. Chants "No hate, no fear, immigrants are welcome here," "Impeach, impeach, impeach," were heard throughout the event.
Thousands of people held signs with many slogans including "America was built by refugees," and "Muslim ban is un-American," "Let them in, let them in."
The protestors were joined by numerous elected officials including Mayor Bill de Blasio, Senator Chuck Schumer, Sen. Jerry Nadler, New Jersey Sen. Cory Booker and other city and state officials who spoke on a small platform just west of Castle Clinton National Monument.
Sen. Charles Schumer denounced President Donald Trump's executive orders calling them bad for America.
"We are here today to deliver a vociferous, a vociferous no to both the president and those horrible horrible executive orders," a fired up Schumer told the crowd.
"They are bad for America, They're bad for humanity, they are bad for national security and they are bad for everything that is American," he said.
Sign of the Times. Thousands lined the park's pathways holding up hand made messages.
City Comptroller Scott Stringer mentioned the enormous economic value immigrates bring to the City.
"I do the books," he said.
Comptroller Stringer also inferred the possibility of Trump getting impeached which brought loud chants of, "impeach, impeach, impeach," from the crowd.
At Saturday's rally, organizers announced that Attorney Generals from sixteen states representing "over 130 million American's" including New York and California signed a letter calling Trump's order illegal.
"We are confident that the Executive Order will ultimately be struck down by the courts," the letter said. (Full statement below)
Protesters later marched a mile north through the streets to another Parks Department property, Foley Square, across the street from the Manhattan offices of U.S. Customs and Border Patrol.
Sunday's protest at Battery Park was co-sponsored by 12 organizations including the New York Immigration Coalition and New York Civil Liberties Union.
It was the second day in a row of large protests. Thousands demonstrated at John F. Kennedy International Airport Terminal 4 on Saturday.
On Friday Donald, "grab them by the p***y" Trump signed an Executive Order banning refugees from entering the U.S. for 120 days and prohibit ones coming from war-torn Syria indefinitely.
On Saturday night a federal judge in Brooklyn granted an emergency nationwide stay preventing the deportation of immigrants detained at U.S. airports and citizens from the seven countries already in transit to America.
U.S House and Senate Democrats will rally on the front steps of the Supreme Court today at 6:00 to protest Trump's immigration order House Minority Leader Nancy Pelosi said in a letter to Democratic colleagues. (Full statement below)
Governor Andrew M. Cuomo offered legal assistance to anyone detained at New York airports, and vowing to ensure the rights of refugees are protected under the law.
"We have directed the Port Authority and my counsel's office to make sure we are protecting the legal rights of any person detained at any of our airports, period," the governor said at a news conference.
"We will serve as counsel for any detainee who needs legal assistance," he said.
Yesterday the Governor also announced the creation of a toll-free, 24 hours a day hotline to offer assistance to refugees left in vulnerable situations at New York area airports. Loved ones can report passengers on Incoming flights believed to be missing or detained
The large crowd making thier way out of the park to head north to Foley Square. (Photos: Geoffrey Croft/NYC Park Advocates) Click on images to inlarge.
House Minority Leader
Nancy Pelosi
letter to Democratic colleagues.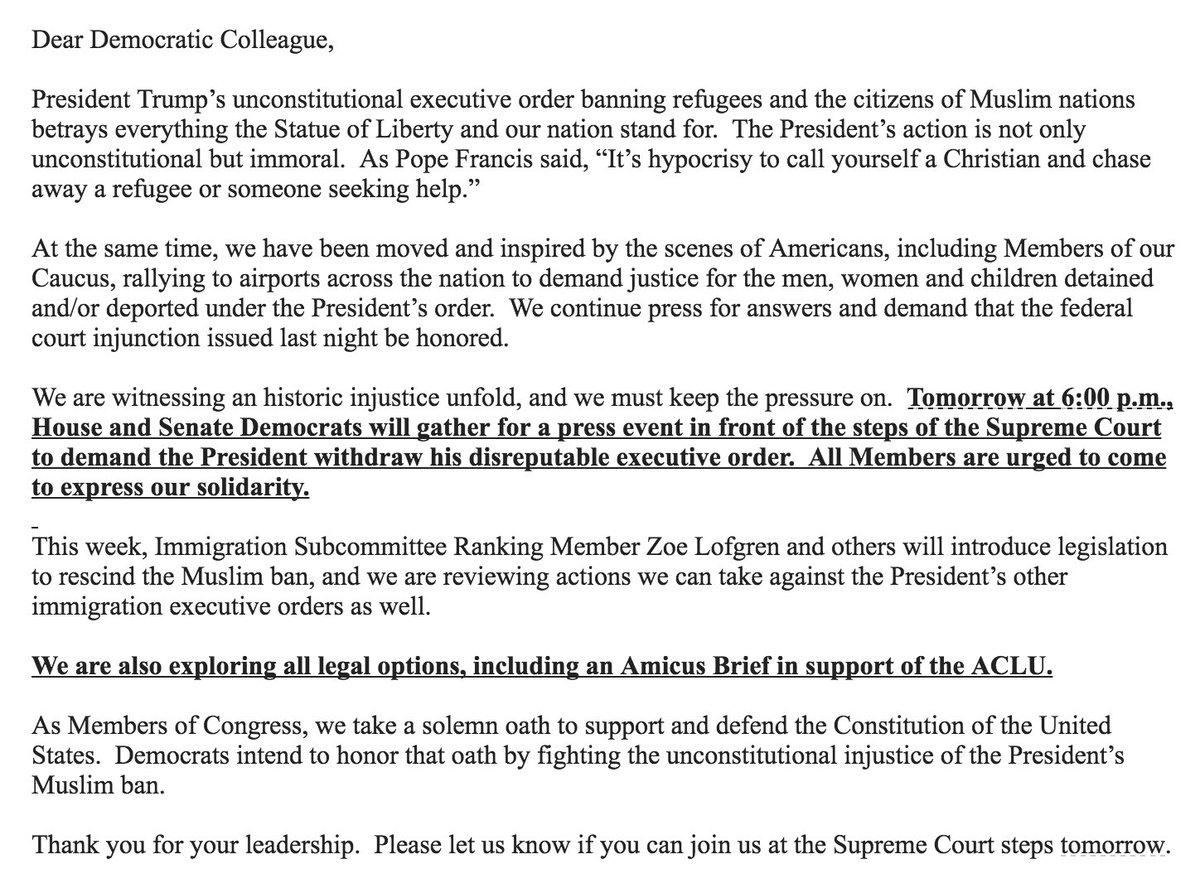 Attorney General Statement