"Hoping It doesn't rain" doesn't seem like the best business model for an outdoor food & wine festival in NYC.
Maybe restaurants will realize this could all be harmful to their brands and harmful long established customer relationships?
Maybe we should've learned that's something's not right with GoogaMooga after last year's failure. Maybe, just maybe, GoogaMooga, as well intentioned as it is, shouldn't come back next year? Maybe!"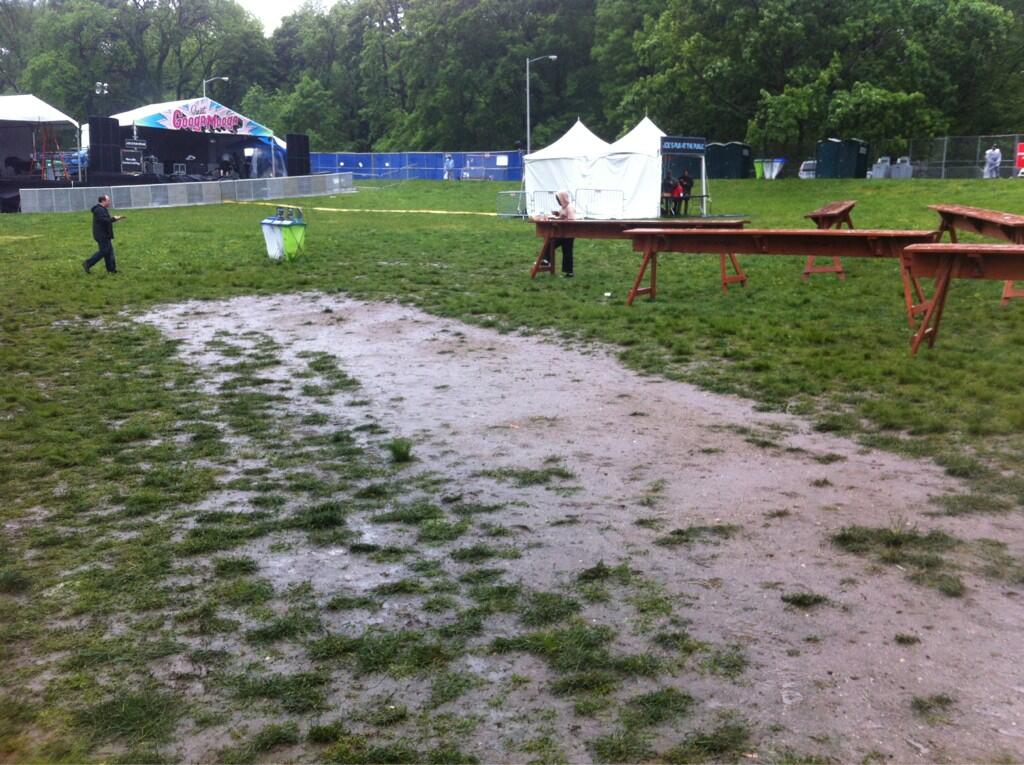 Damaged Grass. Park goers will be monitoring the condition of the park after all the equipment is removed from GoogaMooga. (Photos: via gothamist)
Brooklyn
By Geoffrey Croft
Due to the rain GoogaMooga is cancelled for today according to an announcement just made.



"Due to poor weather, the New York City Parks Department, Prospect Park Alliance, and Googamooga have decided to cancel today's festivities in the interest of safety and prevention of damage to the park grounds, the Propect Park Alliance just anounced.

All Sunday VIP ticket purchases will be refunded in full.





Critics have repeatedly pointed out that the vast majority of the event

takes place on greenscape.

Grass for instance is far more susceptible to damage from heavy equipment and from large sustained pedestrian uses when it rains.


Attendees complained they received emails as late as 11:10 a.m. this morning from GoogaMooga organizers - less than an hour before the event was cancelled - saying additional Sunday tickets were available, and that the lines are moving quickly.

"So safety conditions arose in 50 minutes?" one said.




Others waiting to enter the festival also received the email.




"That frustrated all those who were waiting around us, as clearly there were no [food] lines to be moving," he said.
Here's one from a vender...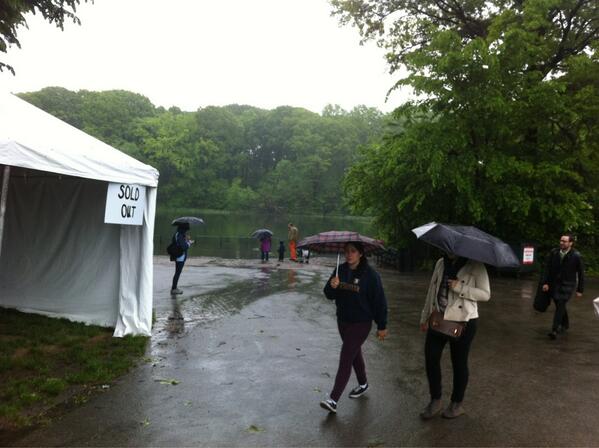 Exiting the event on Sunday.
Mayers said he couldn't specify how the vendors and their vehicles will get out of Prospect Park without doing too much damage to the grass. "Right now we're working hard with our vendors to figure that out. [The grass] is definitely being considered."
What about all that food and booze? "Same thing. Our operations team is working on that."
Last night Mayers released a statement saying that GoogaMooga would address the money lost by vendors due to today's cancellation:
GoogaMooga is all about supporting local businesses and our intention is to do right by each vendor. In the coming days, we will be sitting down with all our partners to find financial solutions.
GoogaMooga Cancelled Today due to Weather
GoogaMooga Cancelled Today

Due to poor weather, the New York City Parks Department, Prospect Park Alliance, and Googamooga have decided to cancel today's festivities in the interest of safety and prevention of damage to the park grounds. All Sunday VIP ticket purchases will be refunded in full.

Read More:
The Brooklyn Paper - May 24, 2013 - BY Natalie Musumeci
The Observer - May 25, 2015 - By Mike Glover
Fort Greene - Clinton Hill Patch - May 19, 2013 - By Caitlin Nolan
gothamist - May 18, 2013 - By Christopher Robbins & Lauren Evans

GoogaMooga Rears Its Ugly Head Again. Park To Get Less Money - Cops $ More
A Walk In The Park - May 18, 2013 - By Geoffrey Croft