UPDATE
Sheepshead Bay resident Jeffery Babbitt, 62, lies on the pavement in the Southern end of Union Square Park yesterday afternoon after being allegedly struck in the face by Martin Redrick in an provoked attack. (Redrick had originally given police the name Lashawn Marten) Mr. Babbitt, a retired transit worker hit his head on the ground and was declared brain dead at Bellevue Hospital. (Photos: Joey Boots via gothamist)
"I hate white people," Redrick reportedly said before attacking Mr. Babbitt and two others who came to his aid. 'I'm going to punch the first white man I see.'
The police are investigating the fatal attack as a possible hate crime.
Redrick had been playing chess in the southern end of Union Square Park before the incident.
Manhattan
A man was arrested this afternoon in Union Square after allegedly attacking three people, according to gothamist.
According to witness
Joey Boots
, the African-American suspect attacked a white man around 2:30 p.m. "He bloodied him up pretty good," Boots said. When two others came to aide the victim, the suspect allegedly assaulted them as well, and started shouting, "I hate white people." You can see a video of the aftermath below.
It's unclear what started the fracas, although the Instagram user who posted the video said, "This dude punched this other dude for walkin past him funny." At least one victim (the first) was taken to a nearby hospital for his injuries; police had no immediate information about the incident.
Boots added that he believes the suspect is a homeless man who has started hanging out in the Square in the past couple days: "I was told he's been around here for a few days...he's been getting sandwiches from a local church group."
The NYPD and the FDNY did not immediately have any details about the incident. You can see a few more photos and Twitter reactions below.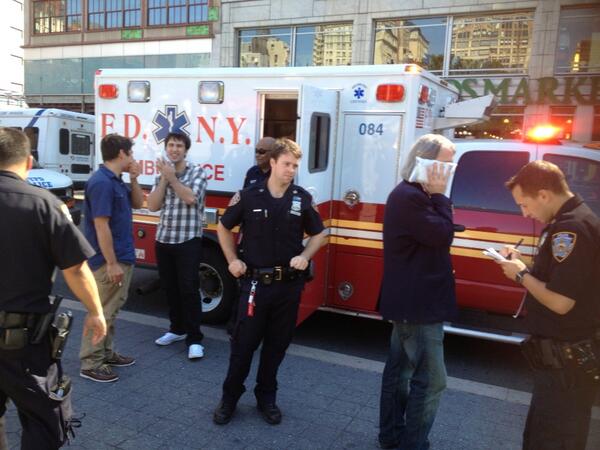 Two more victims in the Union Square Park attack being treated by EMS workers.
Read More:
Video: Man Allegedly Screaming "I Hate White People" Attacked Three In Union Square
gothamist - September 4, 2013 - By Ben Yakas
DNAinfo - September 6, 2013 - By Murray Weiss and Andrea Swalec